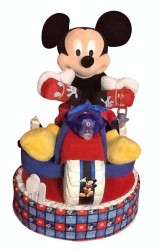 Hi! I am Diana Lee – creator of BabyLuvsCakes, LLC. I am one woman on a mission to create custom, handmade diaper cakes for your special occasion!
Not too long ago, I found myself doing exactly what you're doing right now – surfing the Internet looking for the perfect baby gift. I knew that I wanted something unique that would stand out from the usual every day baby gifts. My son was adding another girl to our family of boys, and I was so excited!  I put my creativity to the test and ran all over to buy the perfect accessories for my project.  I received so may compliments, that I jumped at the chance to make two more diaper cakes!  One snowballed into two, and then three and then before I knew it, I was receiving so many orders that I started BabyLuvsCakes, LLC., and opened the doors for business!
Creativity and making expected mothers feel special are my passion and the reason behind doing what I do.  I put everything into designing a unique, one-of-a-kind gift for the moms-to-be.  I use a mix of Pampers, Johnson & Johnson, and Carter's baby items when making your special gift.  At BabyLuvsCakes, we design, wrap and ship your diaper cake for you.
I invite you to browse my website, and if you do not see what you're looking for, let me know and we can customize that unique gift especially for you!